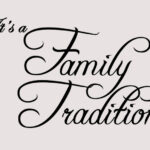 It's not only during the holidays that we should have family traditions although there seem to be many more that are part of the festivities at this time of the year.
To help spawn new traditions of your own, we thought we'd provide you with some resources that could help spawn some new traditions of your own, for now and for the new year.
Remember to involve your family, parents and children alike, and together decide upon what new tradition you'd like to include in your festivities this holiday season and in the coming year.
Here are some of the few resources that we found that may help foster some new traditions:
Family Traditions for the Entire Year
15 Holiday Favourites You Can Start At Home
27 Creative Holiday Traditions
Have fun creating new memories all while building stronger relationships with the ones that you love.
It really isn't about "the stuff" that we have, but the memories that we make.
Start a new tradition and let us know how it goes! And yes, please share your holiday favourites below! Your idea may inspire someone else!